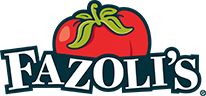 Fazoli's Italian Restaurants
Franchise Fee: $40,000
Royalty: 5%
Total Investment: $650,000 - $1,200,000
Can Be Home Based: No
Founded: 1988
Franchised: 1991
VetFran Member: No
The QSR industry is a very crowded space filled with burgers, chicken and tacos. So, how do you stand out? Well, by eliminating the competition altogether and creating your own category. At Fazoliís, the premier QSR Italian concept, we do things differently. It starts with offering what we call the elevated QSR experience.
We believe that real change comes from the inside out. So, we put a strong emphasis on perfecting our operational systems and processes. This way, weíre able to provide the best value to not only our guests but our franchisees and their employees, too.
What Makes Us Different Also Makes Us Better! Although our customers are enjoying a QSR meal, they get the same service and quality they would expect from a sit-down restaurant. Dine-in guests never have to use plastic plate or silverware and have access to unlimited breadsticks. We donít compromise quality for to-go guests, either (the proof is in the packaging).